Hello!
As of the last ARK update it's literally impossible to stand near an Ice Wyvern and, like, not get a crash.
I have been speaking with people, it has something to do with how Wildcard handles Ice Wyverns and something that they've done to the poor animals lately.
This screenshot explains what needs to be done in order to fix this (this is what everyone, who has a base modding idea says, so I'd guess it is actually a workaround-fix for now):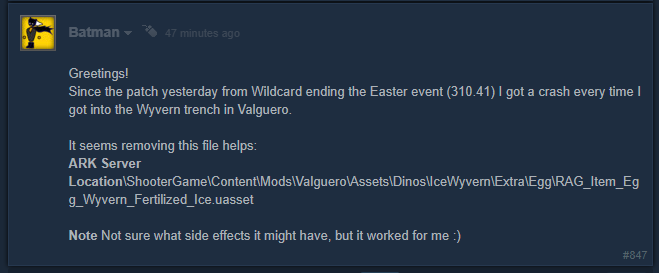 This is what I see when I'm trying to reach that folder, to delete the problematic file:

My question is: Am I able to do anything to fix the damn bug myself? Or am I at Wildcard's mercy for now? I didn't want to bother support with this, cause it's not earth-shattering matter, I can just avoid having Ice Wyverns in render range (which won't be that hard, cause the only ones that are on my server are mine, and they're "pokeballed" and safe in the storage), but if I can fix something, I want to fix something.
Thanks in advance for reply,
cheers!